You only get one chance at a first impression, and never is this truer than with the opening lines of books. Ciara Murphy compiles some of her favourites, from The Catcher in the Rye to Twilight, and The Hobbit to Harry Potter
• What are yours? Email us at childrens.books@theguardian.com or get in touch on Twitter @GdnChildrensBks and we'll add them to this blog!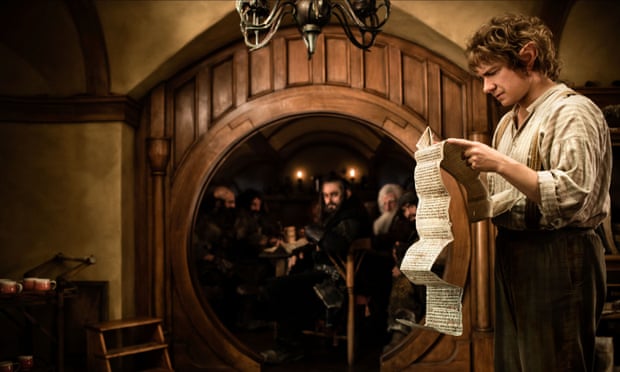 As the first thing you lay eyes upon when opening up a new book, the first line needs to be impactful, enticing, and enough to get us hooked. In an age where we have more books to choose from than ever before, what are the best examples of opening lines in children's and young adult fiction that make sure we're tempted to keep reading right from the first page?
A truly classic opening line, L'Engle presents us with what can be described (if we put our essay hats on for a minute here!) as 'pathetic fallacy', where the author uses a description of nature to hint at the tone of the novel or the emotions of a character. By beginning with this, L'Engle perfectly sets the scene for the remainder of this mysterious science-fiction novel in which Meg Murry must travel to a dark planet to free her father from the Black Thing.
If you really want to hear about it, the first thing you'll probably want to know is where I was born, and what my lousy childhood was like, and how my parents were occupied and all before they had me, and all that David Copperfield kind of crap, but I don't feel like going into it, if you want to know the truth.
The Catcher in the Rye by JD Salinger
Holden Caulfield is up there as one of the coolest teenage narrators in fiction. This sentence gives us a pretty good impression of Holden's attitude – straight to the point and just dripping with razor-sharp irony.
If ever we needed confirmation that Mr and Mrs Dursley were, in fact, not normal at all, this line is it! But by emphasising so strongly the Dursleys' pride in their supposed normality, Rowling also hints at the existence of other, perhaps more "abnormal" dimensions to reality, setting us up perfectly for a book filled with witches, wizards and dark forces that Muggles can barely dream of…
In a hole in the ground there lived a hobbit.
The Hobbit by JRR Tolkien
In just ten words, Tolkien's opening line is so simple and yet leaves the reader with so many questions. What is a hobbit? Why does he live in a hole? And why is this particular hobbit so important that an entire novel is going to be centred on him?
It has been sixty-four years since the president and the Consortium identified love as a disease, and forty-three since the scientists perfected a cure.
Delirium by Lauren Oliver
I'm sure many of us can sympathise with the actions of the president and the Consortium in this respect – they don't call it lovesick for no reason. But a cure? From the first line of her novel, Oliver welcomes us into a world very much unlike our own, with a unique twist on the dystopian theme, and promises us a love story quite unlike any we've ever read before.
I'd never given much thought to how I would die – though I'd had reason enough in the last few months – but even if I had, I would not have imagined it like this.
Twilight by Stephenie Meyer
Love it or hate it, Twilight has what I consider to be one of the best opening lines in YA fiction. We're immediately thrust into the action, with a whole backstory to catch up on and a heroine who (assuming she's going to narrate the entire book) needs to execute an escape Houdini would be proud of. This is what I call a hook.
I've watched through his eyes, I've listened through his ears, and I tell you he's the one.
Ender's Game by Orson Scott Card
Rarely do we start novels already rooting for a character from the very first sentence, but Orson Scott Card makes sure we do just that by immediately introducing us to 'the one'. This line, uttered by an unnamed character, signals the importance of whoever 'he' is (spoiler: it's Ender) – but how have they watched and listened through his eyes and ears…?
For fans of The Lion, The Witch and The Wardrobe, it's not hard to automatically want to read a book with CS Lewis's name on the cover. But the opening line of Voyage of the Dawn Treader is particularly intriguing, partly due to the character's name (how can you possibly like a character called Eustace Clarence Scrubb?), and partly because we're left with an insatiable desire to find out what, exactly, it was that he 'almost deserved'.
A what? Is Percy Jackson secretly related to Severus Snape? Well, no, since Riordan published his novel two years before we were introduced to JK Rowling's Half-Blood Prince, but the term 'half-blood' is enough to get anyone to want to read on to find out what it means. This line – opening a chapter entitled 'I accidentally vaporise my pre-Algebra teacher' – makes sure that Riordan hooks us right from the get-go.
Things had been getting a little better until I got a letter from my dead sister.
Dead Girls Don't Write Letters by Gail Giles
Mystery. Mayhem. Letters. If the title hadn't already convinced you that Giles' novel is sure to be a page-turner, the opening line certainly will: so dead girls don't write letters, but yet here is one doing just that! Who wrote it? What did it say? What happened to Sunny's sister? And why is this her laconic response: 'That more or less ruined my day'.
Here is a small fact: You are going to die."
The Book Thief by Markus Zuzak
OK, full disclosure: this is not, in fact, an opening line, but one of the first few lines of the book, so I thought I would include it as a special bonus. We might all know this fact to be true, but that doesn't make it any easier to read! And when we find out these words are spoken by Death himself, well – it's immediately apparent that this book is going to be something completely unprecedented.
There are so many great opening lines in children's and young adult novels – what are some of your favourites? Share them by emailing

childrens.books@theguardian.com

or on Twitter

@GdnChildrensBks

and we'll add them to this blog.